Introduction
Ubuntu Contributions
managing a computer recycling program
I started a computer recycling program in Ithaca, NY in 2001 called the "Yellow Box Project". The original premise was many families in Ithaca were without computers while hundreds were being thrown away at the city dump which needed only minor work or software to be useful. We primarily used Debian with custom graphics, but as a loosely organized group each volunteer decided what distro to use. After the volume of systems being donated overflowed my home, we were given space to use at the Greater Ithaca Activities Center (GIAC), a multicultural community center which primarily serves families in poverty
I brought Ubuntu into the program with 5.04. Some of the volunteers resisted, some of them argued in favor of "distro agnosticism", but after heavy advocacy and help from Canonical I got the group to reach consensus on using Ubuntu exclusively with 6.06 LTS. By this point over 100 volunteer hours were being put into the project every week. Canonical was extremely supportive by sending us thousands of CDs, enough that we could include a CD with most of the recycled systems in addition to the the other outreach efforts being done (see below). We also upgraded systems already sent out into the community with Ubuntu when they came back for repair.
The program reached it's goal of getting computers into over 700 homes in Ithaca while helping to establish Ubuntu in the local community. The program was finally closed when I moved to New Hampshire last Fall, many of the volunteers are still members of the Ithaca Free Software Association and continue to provide support for the Ubuntu machines in the community.
ubuntu cd distribution
I've been doing heavy GNU/Linux outreach since 2000. One of the early challenges was the distros were not easy for a regular home user. I began promoting Ubuntu to home users exclusively in early 2005 and started distributing Ubuntu CDs in the Summer of 2005 after receiving a large box of Hoary CDs from Canonical. Much of this was on my own, or through a group I was part of at the time, as there was no LoCo program at that time (that I knew of). In recent years this was done under the banner of the Ithaca Free Software Association.
The most frequent tabling locations were Greenstar Food Cooperative, the Ithaca Commons, and Dewitt Park. At times running two tables a week, other times once every month or two. We often had a CD burner at the table making CDs when we ran out of our supplies from Canonical. In more than one case over 150 CDs (3 boxes of 50) were distributed in one afternoon.
As part of the Ithaca Free Software Association, which regularly runs booths at Ithaca College's Ed-Tech Day, I helped distribute several hundred more Ubuntu CDs in 2006 and 2007. I also help organize Ithaca's Software Freedom Day events in 2005, 2006, and 2007. In 2006 we distributed all 550 Ubuntu CDs by 2pm and spent the rest of the afternoon burning CDs for people.
I also made a habit of carrying around an Ubuntu CD to hand out to people as a shirt or button I was wearing often led to conversations with strangers. A rough guess is I've handed out about 50 CDs this way outside of clients.
installfests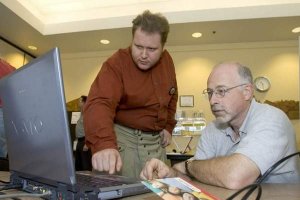 I started running Installfests in downtown Ithaca in November 2000. The first I ran by myself, the only person who brought a computer was a math professor from Ithaca College who installed Mandrake at and spend the day getting excited about software freedom. He's still a member of IFSA, now using Ubuntu on all his systems and recommending it to his students. With each event more people got involved and the community that would later become IFSA formed from this.
I've helped to organize and volunteered at more than a dozen Ubuntu-focused Installfests since 2005, primarily in Ithaca NY as part of Ithaca Free Software Association or through the community center computer program.
The last I helped with, in June 2007, was featured on the front page of the Ithaca Journal with a photo of me helping a local minister upgrade his Windows laptop to Ubuntu.
user support
My primary income over the last 3 years has been computer consulting to home Ubuntu users. I've held a policy of "teaching, not just doing" to help users become more independent which has earned me a high reputation. I get most of my new clients by recommendation from older clients in less need of my services.
I also regularly provide free or bartered services with low income users and, as detailed above, volunteer readily for larger "user support" projects.
loco team involvement
I joined the New Hampshire LoCo team in the middle of the team's conflict between the team membership and our former leader, where matters had escalated to the extent of our team advisor quitting and many members talking about doing the same to form a general software freedom advocacy group. I learned about conflict resolution within Ubuntu bringing the matter first to our former leader, then the US advisors, and finally to the LoCo council. The council replaced our former leader with NikkiHenninger on August 13th.
I took a lead in organizing Software Freedom Day 2008 for New Hampshire. We brought together 9 LoCo volunteers for SFD'08 for an all-day event in front of our state capitol. It was noted that within the first hour we spoke to more people and distributed more CDs than any previous SFD in this state.
My current LoCo project is organizing an 8.10 remix for New Hampshire (with custom artwork and various tunings for New Hampshire's unique culture) and finding funding for CD replication/packaging.
I also co-admin our team's mailing list.
Related Contributions
Ran an afterschool computer program for GNU/Linux, Python, Blender, etc for over 3 years
Mentored for Google's Summer of Code and GHOP with the Python Software Foundation in 2006, 2007, and 2008
Presented numerous workshops on free software apps (Blender, Inkscape, Python, etc)

Maintain the PySoy project, a 3D game engine for Python for promoting copyleft game development
Future Plans
I plan on continuing an active involvement in our LoCo and general Ubuntu promotion/support. I would like to expand our community building activities by organizing regular social events that include new Ubuntu users. I'd also like to see us more involved in Ubuntu development events such as bug sprints and presenting workshops on how to effectively beta-test new releases.
While there's many schools and libraries in New Hampshire already using GNU/Linux, many more have staff interested but don't know how to move forward. I'm planning to work with libraries in our state as our LoCo grows.
I'm also planning to be more involved in packaging games and educational software for Ubuntu/Debian through a new launchpad group for inclusion in a later Ubuntu release by through the REVU. My primary reason for founding the PySoy project (and now a foundation for copyleft games) was to promote this, and Ubuntu is our highest priority for packaging. I see this as the "last frontier" for reaching home users, especially young adults and families with children.
Contact Information
IRC: Arc on Freenode

XMPP: ArcRiley on Gmail

Email: ArcRiley on Ubuntu.com

Launchpad: arcriley
Testimonials
I met Arc via email (as you might expect)in 2003 when he responded to a question I posted to the Cornell University LUG email list. He offered an answer to my question, and he also invited me to come down to the Greater Ithaca Activities Center (GIAC) to see the Free Software project he was involved with. After meeting him in person, I was invited to attend a dish-to-pass dinner that is held weekly in the Ithaca area by a small group of Free Software friendly geeks. This group -- Arc and me included -- eventually formed the Ithaca Free Software Association (IFSA) so that we could perform our advocacy efforts under a specific name.
I've been interested in GNU/Linux since 1998, but it was Arc's invitation(s) and monumental enthusiasm for Free Software and his vision for what a small group of dedicated volunteers could do with it that inspired me to get more involved with Free Software in my community. Something that I continue to this day as a member of IFSA. -- MitchWiedemann [21 Aug 2008]
I met Arc in PySoy's IRC channel . He would always greet people as soon as they joined, and fosters a welcoming atmosphere in our IRC channel. He is patient with new developers and has helped me get developing for FOSS. Even though Arc's local contributions are plentiful, he readily reaches out and help others. -- DavidCzech [29 Friday 2008]
Arc and I met through involvement in the New Hampshire LoCo Team. He's a creative problem solver and a dedicated member of our community. He brings our LoCo both technical expertise and has been an instrumental part in helping to form a healthy LoCo here in New Hampshire. He's the sort of guy that just knows how to motivate people and make things happen. And besides, he has a nice beard. -- NikkiHenninger [30 Aug 2008]
As a part of the US Mentors team, I had the opportunity to work with Arc while he and NikkiHenninger took leadership roles within the New Hampshire LoCo Team to resolve some internal disputes. Arc took the time to bring the problems all the way to the LoCo Council and showed considerable dedication and persistence during the process. His impressive history with F/OSS and recent (past couple years) focus on Ubuntu specifically is admirable. -- Elizabeth Bevilacqua [11 Sep 2008]
Arc is organization personified! Not that Arc is organized, per se, but Arc thrives on project contribution through organization. He has shown this time and time again within the FOSS commnity both in groups such as the Ithaca Free Software Association and the New Hampshire LoCo, software projects such as Pysoy, and causes such as computer rebranding. He is patient and helpful with newcomers and persistent with causes. -- Doc Kinne [01 Apr 2009]]
Place your testimonial about me here -- YourName [day month year]
---
ArcRiley (last edited 2009-05-07 15:59:12 by c-98-216-145-211)