Differences between revisions 1 and 68 (spanning 67 versions)
⇤

←

Revision 1 as of 2010-07-19 20:04:17

→

Deletions are marked like this.

Additions are marked like this.

Line 1:
Line 1:

== Key Details ==

#language en
#format wiki
#title Ubuntu NL Reapproval Application
||<tablestyle="float:left; margin-right: 10px;" style="border: none;">{{http://wiki.ubuntu-nl.org/Artwork/Projecten/Logos/Ubuntu-NL?action=AttachFile&do=get&target=Ronnie2.png}}||
Line 3:
Line 6:
* '''Date''' - 2010-07-20
* '''Team Contact''' - Dennis Kaarsemaker <dennis@kaarsemaker.net>
* '''Membership''' - Unknown (See below)
* '''Mailing List''' - ubuntu-nl on lists.ubuntu.com
* '''IRC''' - #ubuntu-nl on freenode

Our last [[https://wiki.ubuntu.com/DutchTeamApprovalApplication?action=recall&rev=31 |Approval Meeting Application]] form is linked, this application page aims to show how we have grown and what we have done since.

Line 9:
Line 8:

Ubuntu NL has existed since 2004 and is one of those teams that became de-facto approved. In the past six years, the locoteam has evolved from a small gang on IRC into a very active forum and quite a few activities outside of it. Despite some internal struggles, the community is going strong and growing strong.

The Ubuntu-NL LoCo is a group of active and diverse individuals who strive to support Ubuntu users in Dutch speaking countries, and to promote Ubuntu in the Netherlands.

Line 11:
Line 10:

As a mostly forum-based community, we do not track membership via launchpad and thus it is unclear how many members we have and who we count as members. As an indication, the forum has 20000+ registered accounts.

<<BR>><<BR>><<BR>><<BR>>


== Key details ==
----
'''Ubuntu NL'''
||'''!LoCo Contact'''||[[https://launchpad.net/~sense|Sense Hofstede]]||
||'''Founded'''||2004||
||'''Forum'''||[[http://forum.ubuntu-nl.org/]]||
||'''IRC channel'''||[[irc://irc.ubuntu.com:8001/ubuntu-nl|#ubuntu-nl]]||
||'''Mailing list'''(support only)||[[https://lists.ubuntu.com/mailman/listinfo/ubuntu-nl|ubuntu-nl@l.u.c]]||
||'''!LoCo Directory'''||[[http://loco.ubuntu.com/teams/ubuntu-nl]]||
||'''Launchpad team'''||[[https://launchpad.net/~ubuntu-nl|ubuntu-nl]]||
||'''Launchpad team created'''||2005-09-26||
||'''Planet'''||[[http://planet.ubuntu-nl.org/|Planet Ubuntu NL]]||

<<BR>><<BR>>
Line 14:
Line 29:
=== Our plans for the future are: ===
----
===== Website development =====
Line 15:
Line 33:
* ''Artwork refresh'' - An artwork team has been formed recently to refresh the look of the ubuntu-nl.org sites
* ''Help the frysian team'' - Ubuntu-fy (www.ubuntu-fy.org) has been started by Ubuntu-NL membebr Dooitze de Jong
* ''New team contact'' - Currently Dennis and Sebastian are team contacts but Dennis does not have enough time anymore
* ''More international presence'' - Cooperating with other LoCoTeams, eg in the artwork area

Update the website and add functionality. We have obtained hosting sponsorship and we have members working on a new theme for our site, we share roles out in the team and this is one way for a member(or members) to contribute back to the Ubuntu-ie community. A community server to experiment with webservices is being worked on.

Line 20:
Line 35:

Most of our plans are discussed in private parts of the forum, this is a historical artefact of being a mostly forum-based LoCo that has seen some internal struiggles. One thing for our roadmap would be to open this up more.

===== Work on long term focus points =====
The new Community Board has been quite occupied with issues that needed attention, so until now we function more reactively than we want to. When there is more time we need to analize our LoCo and formulate goals that build upon our strengths and limit the impact of our weaknesses.
<<BR>><<BR>>
Line 24:
Line 41:
* ''Many, many release parties'' - Every six months we organize release parties and for the LTS releases 8.04 and 10.04 we even organized big parties with several hundred visitors. http://www.releaseparty.eu/ is where the agenda for the last party still lives.
* ''Presentations and talks'' - Between 2004 and 2010, community members of Ubuntu NL have given talks about ubuntu on quite a few occasions. Audiences range from companies to local LUGs (HCC groups), schools and even hospital staff. Sadly most of these talks have not been recorded or photographed.
* ''Translations'' - We have done a translation sprint back in 2005 and there is a lot of interest from the community to help out with translations
* ''Documentation'' - wiki.ubuntu-nl.org is our place for creating documentation and it is already quite substantial
=== Since our last loco approval we have continued to do the following: ===
----
===== IRC Meetings =====
Line 29:
Line 45:
* We have consistently held IRC meetings, refining the structure to ensure efficiency. Minutes and logs of these meetings can be found [[ http://wiki.ubuntu-nl.org/community/Meetings | here ]].

===== Translating Ubuntu =====
* All Dutch translations for Ubuntu are done via the Dutch Translation Team. There is no separate team for Ubuntu BE, just like GNOME NL serves both the Netherlands and Flanders. There is a [[https://launchpad.net/~ubuntu-l10n-nl|Lauchpad page]] and a subsection on the [[http://wiki.ubuntu-nl.org/community/Vertaalteam/Status|Dutch wiki]] that the translation team uses to coordinate its activities.

===== Writing localized documentation =====
* Since 2007, the Ubuntu NL wiki, which is, amongst other things, also the home of the Dutch documentation, can be found at [[http://wiki.ubuntu-nl.org/|wiki.ubuntu-nl.org]]. There are [[http://wiki.ubuntu-nl.org/community/Richtlijnen|Documentation Guidelines]] in place to assure the quality of the documentation.

===== Providing a support forum =====
* The Ubuntu NL Forum can be found at [[http://forum.ubuntu-nl.org|forum.ubuntu-nl.org]]. The forum is for all Dutch-speaking Ubuntu users, including the Flemish. The forum has over 60,000 topics and over 700,000 messages.

===== Providing support via irc =====
* The IRC Team are the channel ops who try to keep the #ubuntu-nl* IRC channels helpful and friendly.

===== Create Artwork =====
* The Artwork team is currently working on a [[http://wiki.ubuntu-nl.org/Artwork/Projecten/WebsiteTheme/Forum/|new theme]] for the SMF 2.0 forum software. A live demo of this theme can be found [[http://www.allesoverlinux.nl/ubuntu/|here]]. Please keep in mind that the theme is still under development, so some pages won't look like they should.
* The team is also developing a new support map. People can click the nearest support point and send him/her a message for help. [[http://img830.imageshack.us/img830/3938/schermafdrukubuntunlste.png|This]] is a screen shot of the new map that's still under development.

===== Team Reports =====

* We have started producing team reports. That went well for a while. Now the new community board took up the task of organizing these reports in such a way that they are not forgotten.

( [[ http://wiki.ubuntu-nl.org/community/Meetings//ListMaandelijkseVoortgang |Full list of Team Reports]] )

===== Release Parties =====
|| {{attachment:promotion.jpg}} || [[http://wiki.ubuntu-nl.org/community/ReleasepartyWiki/HoF/200811DenHaag?action=AttachFile&do=get&target=foto1.jpg|{{http://wiki.ubuntu-nl.org/community/ReleasepartyWiki/HoF/200811DenHaag?action=AttachFile&do=get&target=foto1.jpg|200811DenHaag|width=300px}}]] || [[http://wiki.ubuntu-nl.org/community/ReleasepartyWiki/HoF/201005Ede?action=AttachFile&do=get&target=foto9.jpg|{{http://wiki.ubuntu-nl.org/community/ReleasepartyWiki/HoF/201005Ede?action=AttachFile&do=get&target=foto9.jpg|201005Ede|width=300px}}]] ||
* We have a strong history in organizing and attending events.

|| 2007 || 2008 || 2009 || 2010 || 2011 ||
|| [[http://wiki.ubuntu-nl.org/community/ReleasepartyWiki/HoF/200711Gent | Gent 25-11-2007]] || [[http://wiki.ubuntu-nl.org/community/ReleasepartyWiki/HoF/200811Hasselt | Hasselt 22-11-2008]] || [[http://wiki.ubuntu-nl.org/community/ReleasepartyWiki/HoF/200912Oss | Oss 12-12-2009]] || [[http://wiki.ubuntu-nl.org/community/ReleasepartyWiki/HoF/201005Ede | Ede 29-5-2010]] || [[http://wiki.ubuntu-nl.org/community/ReleasepartyWiki/HoF/201105Bunnik | Bunnik 21-05-2011]] ||
|| [[http://wiki.ubuntu-nl.org/community/ReleasepartyWiki/HoF/200710Hilversum | Hilversum 27-10-2007]] || [[http://wiki.ubuntu-nl.org/community/ReleasepartyWiki/HoF/200811Groningen | Groningen 22-11-2008]] || [[http://wiki.ubuntu-nl.org/community/ReleasepartyWiki/HoF/200910Ede | Ede 31-10-2009]] || [[http://wiki.ubuntu-nl.org/community/ReleasepartyWiki/HoF/201605Genk | Genk 16-5-2010]] || [[http://wiki.ubuntu-nl.org/community/ReleasepartyWiki/HoF/201105Ede | Ede 12-05-2011]] ||
|| [[http://wiki.ubuntu-nl.org/community/ReleasepartyWiki/HoF/200710Brussel | Brussel 21-10-2007]] || [[http://wiki.ubuntu-nl.org/community/ReleasepartyWiki/HoF/200811DenHaag | Den Haag 15-11-2008]] || [[http://wiki.ubuntu-nl.org/community/ReleasepartyWiki/HoF/200910Utrecht | Utrecht 27-10-2009]] || [[http://wiki.ubuntu-nl.org/community/ReleasepartyWiki/HoF/201005Tilburg | Tilburg 1-5-2010]] || ||
|| [[http://wiki.ubuntu-nl.org/community/ReleasepartyWiki/HoF/200710Hasselt | Hasselt 20-10-2007]] || [[http://wiki.ubuntu-nl.org/community/ReleasepartyWiki/HoF/200811Apeldoorn | Apeldoorn 15-11-2008]] || [[http://wiki.ubuntu-nl.org/community/ReleasepartyWiki/HoF/200905Oss | Oss 30-5-2009]] || [[http://wiki.ubuntu-nl.org/community/ReleasepartyWiki/HoF/201005Utrecht | Utrecht 1-5-2010]] || ||
|| [[http://wiki.ubuntu-nl.org/community/ReleasepartyWiki/HoF/200709Gent | Gent 16-09-2007]] || [[http://wiki.ubuntu-nl.org/community/ReleasepartyWiki/HoF/200811Brussel | Brussel 2-11-2008]] || [[http://wiki.ubuntu-nl.org/community/ReleasepartyWiki/HoF/200905DenHaag|Den Haag 16-5-2009]] || || ||
|| [[http://wiki.ubuntu-nl.org/community/ReleasepartyWiki/HoF/200705Hasselt | Hasselt 20-5-2007]] || [[http://wiki.ubuntu-nl.org/community/ReleasepartyWiki/HoF/200805Amsterdam | Amsterdam 17-5-2008]] || [[http://wiki.ubuntu-nl.org/community/ReleasepartyWiki/HoF/200905Drachten | Drachten 9-5-2009]] || || ||
|| [[http://wiki.ubuntu-nl.org/community/ReleasepartyWiki/HoF/200705Gent | Gent 6-5-2007]] || [[http://wiki.ubuntu-nl.org/community/ReleasepartyWiki/HoF/200805Gent | Gent 11-5-2008]] || [[http://wiki.ubuntu-nl.org/community/ReleasepartyWiki/HoF/200905Gent | Gent 9-5-2009]] || || ||
|| [[http://wiki.ubuntu-nl.org/community/ReleasepartyWiki/HoF/200704Brussel | Brussel 22-4-2007]] || [[http://wiki.ubuntu-nl.org/community/ReleasepartyWiki/HoF/200805Herk-de-Stad | Herk-de-Stad 3-5-2008]] || [[http://wiki.ubuntu-nl.org/community/ReleasepartyWiki/HoF/200905Groningen|Groningen 7-5-2009]] || || ||
|| || [[http://wiki.ubuntu-nl.org/community/ReleasepartyWiki/HoF/200804Brussel | Brussel 26-4-2008]] || [[http://wiki.ubuntu-nl.org/community/ReleasepartyWiki/HoF/200905Apeldoorn | Apeldoorn 2-5-2009]] || || ||
|| || || [[http://wiki.ubuntu-nl.org/community/ReleasepartyWiki/HoF/200904Hasselt | Hasselt 25-4-2009]] || || ||




===== Ubuntu-NL foundation =====
* We continue to work on a legal foundation for Ubuntu-NL responding to a call from active community members in organizing events. There is a need for a foundation to make fund raising possible (bank account), to provide insurance for volunteers organizing events, to be taken seriously by commercial partners.
<<BR>><<BR>>

== Growth ==
=== Since our last loco approval that we failed (21-12-2010) to pass, we have done these new things: ===
Line 30:
Line 95:

CategoryLoCoTeams

===== Online Workshops =====
Mwanzo organised several workshops on IRC. The announcements, logs and summary can be found [[http://wiki.ubuntu-nl.org/community/mwanzo/Workshop|here|target="_new"]].

Topics:
* [[http://wiki.ubuntu-nl.org/community/mwanzo/Workshop/IRCInleiding|Introduction to IRC]]
* [[http://wiki.ubuntu-nl.org/community/mwanzo/Workshop/IRCvervolgcursus|IRC tips and tricks]] (sequel of introduction)
* [[http://wiki.ubuntu-nl.org/community/mwanzo/Workshop/WikiInleiding|Introduction to working with wiki's]] (focus on moinmoin)
* [[http://wiki.ubuntu-nl.org/community/mwanzo/Workshop/GPGInleiding|GPG and signing the Ubuntu Code of Conduct]]
* [[http://wiki.ubuntu-nl.org/community/mwanzo/Workshop/BasiscursusPython|Weekly course on Python]] (13 lessons)

===== Ubuntu-NL Mwanzo =====
The aim of the new Ubuntu-NL [[http://wiki.ubuntu-nl.org/community/mwanzo/|Mwanzo]] initiative is to help new community members to become active participants in the community.

===== Ubuntu Nederland governance =====
Under inspiring leadership of Sense Hofstede Ubuntu-NL has recently set up well [[http://qense.nl/wp-content/uploads/2011/01/ubuntunl-organisatievoorstel-03.pdf|documented]] new governance structures and processes. As a result a new [[http://wiki.ubuntu-nl.org/community/Gemeenschapsleiding|Community Governance]] body, a [[http://wiki.ubuntu-nl.org/community/Gemeenschapsraad|Community Board]] and [[http://wiki.ubuntu-nl.org/community/Voorzitter|Chair]] were chosen. The new governance bodies are operating with confidence, and previously existing problems with governance seem to be resolved.

===== Ubuntu Global Jam =====
{{attachment:jam.jpg}}

===== Elections Infrastructure Development =====

A special [[http://ubuntunl.sensehofstede.nl/verkiezing/1/Ubuntu%20Nederland%20verkiezingen%202011/|website]] for the elections was developed where candidates can register, present themselves, and where Ubuntu-NL members can vote, and where the results of elections are presented:

{{attachment:elections.png}}

===== New Hosting for services =====
The second oldest hosting provider in the Netherlands, community driven, the [[http://groepen.hcc.nl/home/hccplatform-linux-home.html|HCC]] is now hosting the Ubuntu-NL services. A new sysadmin team was formed to take on the task of moving the services to the new hosting. This newly formed team has done a great job under time pressure and our hosting is now secured for the future.

===== Dutch translation of Ubuntu Manual =====

The Dutch Translation Team worked hard on the Dutch translation of the Ubuntu Manual. It's ready for [[http://ubuntu-manual.org/?lang=nl|download]] now. Hurray!

<<BR>><<BR>>

== Ubuntu Members ==
The following Ubuntu Members are active in the Dutch LoCo teams:

* [[leoquant|Leoquant]]
* [[SenseHofstede|Sense Hofstede]]
* [[ronnie.vd.c|Ronnie van de Crommenacker]]
* [[RachidBM|Rachid]]
* [[CeesSluis|Cees Sluis]]
* [[https://launchpad.net/~s.schauenburg|Sebastian Schauenburg]]
* [[UndiFineD|Keimpe de Jong]]
Our last Approval Meeting Application form is linked, this application page aims to show how we have grown and what we have done since.
The Ubuntu-NL LoCo is a group of active and diverse individuals who strive to support Ubuntu users in Dutch speaking countries, and to promote Ubuntu in the Netherlands.
Key details
---
Ubuntu NL
| | |
| --- | --- |
| LoCo Contact | |
| Founded | 2004 |
| Forum | |
| IRC channel | |
| Mailing list(support only) | |
| LoCo Directory | |
| Launchpad team | |
| Launchpad team created | 2005-09-26 |
| Planet | |
Roadmap
Our plans for the future are:
---
Website development
Update the website and add functionality. We have obtained hosting sponsorship and we have members working on a new theme for our site, we share roles out in the team and this is one way for a member(or members) to contribute back to the Ubuntu-ie community. A community server to experiment with webservices is being worked on.
Work on long term focus points
The new Community Board has been quite occupied with issues that needed attention, so until now we function more reactively than we want to. When there is more time we need to analize our LoCo and formulate goals that build upon our strengths and limit the impact of our weaknesses.


Experience
Since our last loco approval we have continued to do the following:
---
IRC Meetings
We have consistently held IRC meetings, refining the structure to ensure efficiency. Minutes and logs of these meetings can be found here.
Translating Ubuntu
All Dutch translations for Ubuntu are done via the Dutch Translation Team. There is no separate team for Ubuntu BE, just like GNOME NL serves both the Netherlands and Flanders. There is a Lauchpad page and a subsection on the Dutch wiki that the translation team uses to coordinate its activities.
Writing localized documentation
Since 2007, the Ubuntu NL wiki, which is, amongst other things, also the home of the Dutch documentation, can be found at wiki.ubuntu-nl.org. There are Documentation Guidelines in place to assure the quality of the documentation.
Providing a support forum
The Ubuntu NL Forum can be found at forum.ubuntu-nl.org. The forum is for all Dutch-speaking Ubuntu users, including the Flemish. The forum has over 60,000 topics and over 700,000 messages.
Providing support via irc
The IRC Team are the channel ops who try to keep the #ubuntu-nl* IRC channels helpful and friendly.
Create Artwork
The Artwork team is currently working on a new theme for the SMF 2.0 forum software. A live demo of this theme can be found here. Please keep in mind that the theme is still under development, so some pages won't look like they should.

The team is also developing a new support map. People can click the nearest support point and send him/her a message for help. This is a screen shot of the new map that's still under development.
Team Reports
We have started producing team reports. That went well for a while. Now the new community board took up the task of organizing these reports in such a way that they are not forgotten.
Release Parties
We have a strong history in organizing and attending events.
Ubuntu-NL foundation
We continue to work on a legal foundation for Ubuntu-NL responding to a call from active community members in organizing events. There is a need for a foundation to make fund raising possible (bank account), to provide insurance for volunteers organizing events, to be taken seriously by commercial partners.
Growth
Since our last loco approval that we failed (21-12-2010) to pass, we have done these new things:
---
Online Workshops
Mwanzo organised several workshops on IRC. The announcements, logs and summary can be found here.
Topics:
Ubuntu-NL Mwanzo
The aim of the new Ubuntu-NL Mwanzo initiative is to help new community members to become active participants in the community.
Ubuntu Nederland governance
Under inspiring leadership of Sense Hofstede Ubuntu-NL has recently set up well documented new governance structures and processes. As a result a new Community Governance body, a Community Board and Chair were chosen. The new governance bodies are operating with confidence, and previously existing problems with governance seem to be resolved.
Ubuntu Global Jam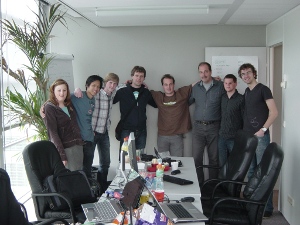 Elections Infrastructure Development
A special website for the elections was developed where candidates can register, present themselves, and where Ubuntu-NL members can vote, and where the results of elections are presented:
New Hosting for services
The second oldest hosting provider in the Netherlands, community driven, the HCC is now hosting the Ubuntu-NL services. A new sysadmin team was formed to take on the task of moving the services to the new hosting. This newly formed team has done a great job under time pressure and our hosting is now secured for the future.
Dutch translation of Ubuntu Manual
The Dutch Translation Team worked hard on the Dutch translation of the Ubuntu Manual. It's ready for download now. Hurray!
Ubuntu Members
The following Ubuntu Members are active in the Dutch LoCo teams:
DutchTeamApprovalApplication (last edited 2013-09-17 21:19:03 by ip120-108-210-87)