Introduction
Jaunty Jackalope , the next version of Kubuntu, is due to be released on April 23, 2009.
9.04 continues the Kubuntu community's work on bringing you the best KDE4 experience around.
Built with KDE 4.2 and using the world-renowned Ubuntu as it's base, Jaunty Jackalope brings new and updated applications as well as new desktop concepts that make a rock solid, functional and beautiful computing experience.
NOTE: This is a beta (pre-) release. Pre-release versions of Jaunty are NOT encouraged for anyone needing a stable system or for anyone not comfortable running into occasional, even frequent, breakage. Pre-release versions of Jaunty ARE recommended for Kubuntu developers and those who want to help in testing, reporting, and fixing bugs. Please do not use this in a production environment with data or workflows that you cannot do without.
Installing 9.04 Beta
To upgrade from 8.10 follow these upgrade instructions, you can also upgrade from 8.04.
The Beta release can also be downloaded from the following mirrors (some mirrors may still be updating):
Africa
Asia
Europe
North America
Oceania/Australia
South America
Rest of the world
Please download using Bittorrent if possible.
What's New?
Jaunty Jackalope includes a brand new desktop containing many bug fixes, new configuration options, as well as many new and updated applications. Below are some highlights:
KDE 4.2.1
9.04 Beta includes KDE 4.2.1, a bugfix and maintenance release of their amazing desktop environment. On top of the many bug fixes included, this version also contains many improvements and new functionalities, including
Significant refinements of Plasma and KWin, the KDE workspace
Many new and updated plasma widgets
New and improved desktop effects (enabled by default)
The return of the optional "Classic Desktop" motif
More desktop configuration options
and more...
For complete details 0n KDE 4.2.1, please consult http://kde.org/announcements/announce-4.2.1.php .
Qt 4.5
Jaunty Jackalope ships with latest Qt, version 4.5, which brings a faster desktop experience as well as new features. More information can be found here.
KPackageKit 0.4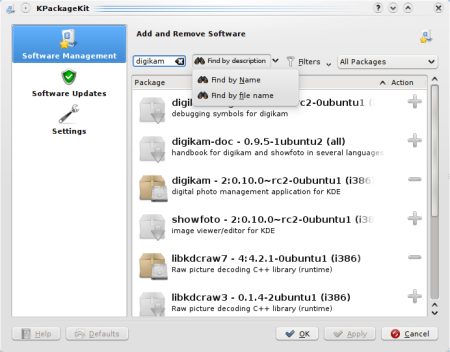 Kubuntu Jaunty now includes a new software manager: KPackageKit, the KDE front-end to packagekit.
Quassel 0.4.1
Quassel is a new IRC client that is now the default for Kubuntu Jaunty. A new setup wizard makes setting it up a breeze.
Amarok 2.0.2
Jaunty Jackalope now comes with the recently-released Amarok 2.0.2, the second bugfix/enhancement release in the Amarok2 series including integration of online services such as Last.fm, LibriVox, Jamendo, Magnatune and more.
New KDE 4 Network-Manager Plasma Widget
The new plasma-widget-network-manager replaces the old KNetworkManager applet.
NOTE : Upgraders may have to add the Network Management plasma widget to their taskbar or desktop manually
KTorrent 3.2
KTorrent has been updated to version 3.2. This version brings new features, a heaping of bugfixes and fixes for memory leaks. It also brings a new KTorrent plasmoid to grace your desktop. (Installable as the plasma-widget-ktorrent package, not installed by default)
Kdebluetooth 0.3
Kdebluetooth has been updated and is back in action, fixing the major bluetooth issues that plagued Kubuntu 8.10.
Known Issues
Kmail sieve functionality is buggy and causes CPU hang. You shouldn't use it at the moment.
Feedback
We want to hear what you think about the beta release of Kubuntu 9.04, the Jaunty Jackalope. We want to know if it Rocks, if it is just OK, or if it is flat out wrong. No matter the feedback, as long as it is in line with the Ubuntu Code of Conduct, we would like to hear it.
So what are you waiting for? Head on over to the Feedback Page and let us know!
JauntyJackalope/Beta/Kubuntu (last edited 2009-04-09 12:50:44 by 85)