Ubuntu Bugsquad Icon
Sponsor: Ubuntu Community / Charlie Kravetz <cjk at teamcharliesangels.com>

Posted: 11 Nov 2010

Due: ASAP

Assigned: Artwork Team

Packages affected: None

Accolades: Yes

Comment: Original Request
Rationale
Create an icon for the new Ubuntu-bugsquad mentoring program. The team will be called the bugsquad-mentor-teamA. This team will be set up to test a new concept in mentoring bugsquad applicants. This will be a three-month test. If the test proves beneficial to the bugsquad, more teams will be created.
Assumptions
Use Cases
A logo must show the relationship between Bugsquad Team A mentor and student.
Design Considerations
It also will need the A on it to designate that this is team A.
This logo will be used on the launchpad team page and bugsquad wiki pages ( we need a 64 x 64 px for the main page and 14px icon, 192 x 192 px is a bonus).

Audience is Bugsquad team A members

Technical community focus
Constraints
Workflow
The mailing list will be used to facilitate design discussions.
Submission will be posted to this wiki page.
Submissions
JohnBaer - 2010-11-20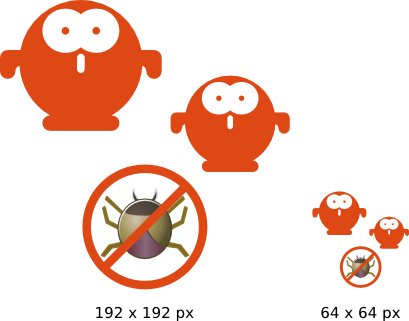 Take 1
Take 2
A logo which uses the Design Team pictograms to represent the Mentor and student. The design is targeted specifically to launchpad with dimensions of 192 x 192px.
Attribution: Design based on Design Team Pictograms & Bug Buddy Icon
Take 3 - 2010-11-27
A more cartoon-ish submission.
leogg - 11/22/2010
Submission by coz (via mailing list) - 11/23/2010
---
BoF Discussion
Artwork/Specs/0003_Bugsquad_Icon (last edited 2011-01-24 09:13:56 by p4FFB4EF5)