Recap
The Ubuntu LoCo Team consisted of Brian (hal14450), Charles (cprofitt) and Karlie(Fedora Ambassador and LoCo member). Karlie did a presentation on OLPC and Charles did a presentation on saving money with Free Software. The group brought over 320 CDs to the event thanks to the donation of time on the On-Disk.com equipment and Brian's hard work. The drive down to Ithaca involved a malfunction with the thruway toll booth and a collision with a wild turkey.
When we arrived at 8am we quickly found the location and checked in as vendors. The other vendors there included Apple, Microsoft, Hewlett Packard, Lenovo and several other 'big name' vendors. Our booth was right along the entry path to the rest of the exhibit floor which ensured that we would get great traffic. We now joined forces with Eric and Marty from the Ithaca Free Software Association and setup our booth area.
The booth just prior to setup - Eric from the Ithaca Free Software Association
The booth just after setup
The show started at 9am and our booth was immediately mobbed with people. More pictures would have been taken but we were all quickly engaged in talking with people eager to learn about Free Software.
Brian and Marty talking to one of the several educators interested in Free Software
Eric talking about Free Software
Karlie discussing Free Software and the OLPC project
The rush of people was so great that we gave out all 320 CDs in the first hour and a half of the show. Wow. Next year we will have to make more CDs.
OLPC Presentation Pictures
Karlie discussing Free Software and the OLPC project
Two attendees looking at the XO with great interest
Free Software Presentation
Charles speaks to over 75 people about Free Software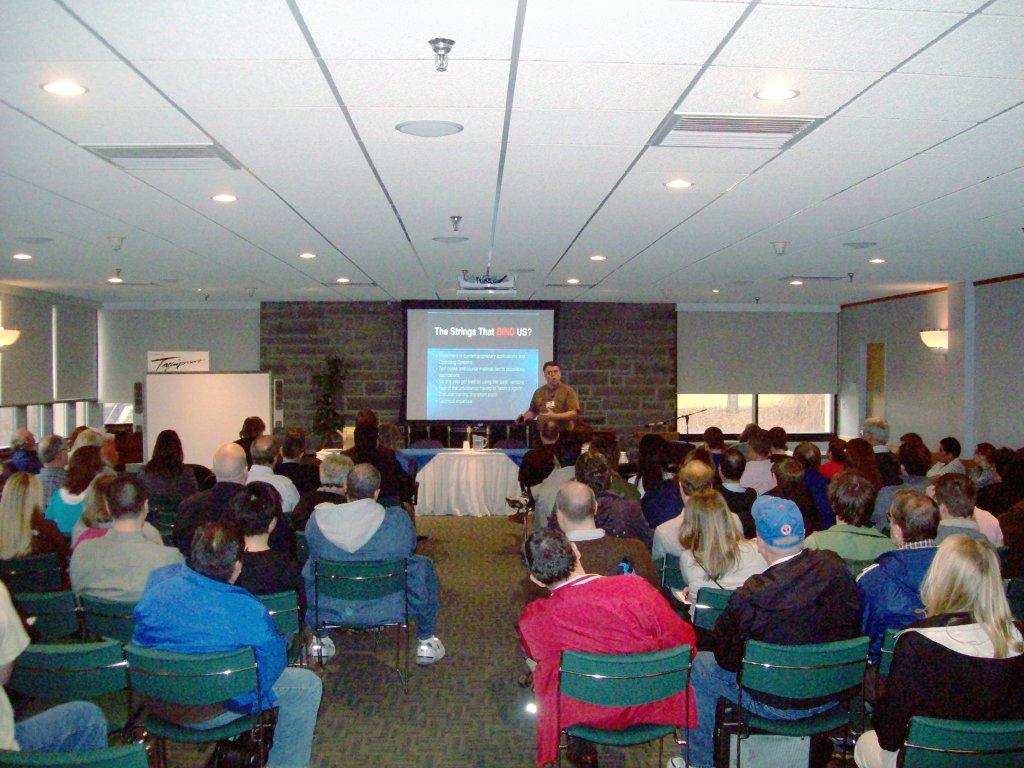 Charles talks about the strings that bind us to proprietary software
Another view of the large crowd
Summary
Through the combined efforts of the Ithaca Free Software Association, Fedora Ambassador Program and The New York State Ubuntu LoCo team the word about Free Software was spread through the New York State Educational community. Attendees from Rochester, Syracuse, Cortland, Binghamton and many other cities in New York State all took the time to talk to us at our booth. Both presentations were well attended and well received.
Over View
The NY State Ubuntu LoCo will be collaborating with the Ithaca Free Software Association to spread the word about Ubuntu and FOSS software at Ed Tech Day 2009. The conference is Thursday March 26th from 9am - 4pm. We will assist in manning the 'vendor' booth at the conference and potentially will collaborate with their presentation.
What is Ed Tech Day
Educational Technology Day is a regional technology event that attracts over 1,600 people annually from the upstate New York region. It features local and national vendors such as Adobe, Apple Computer, Dell, Hewlett Packard, Microsoft, SunGard SCT, and many others.



Educational Technology Day, now in its nineteenth year, is free and open to the public. Last year we had over 45 local and national vendors and over 1,600 attendees. We estimate that the show attracted about 650 people from off campus last year, representing well over 150 institutions of higher education, K-12 schools, local businesses and other organizations in the upstate New York area, in addition to over 1000 faculty, staff, and students from Ithaca College. This show attracts attendees from higher education, K-12, area businesses and the local community. Ed Tech Day is the largest multi-platform, multi-vendor technology show for higher education in the upstate New York area.

Running from 9 am to 3 pm, the Vendor Technology Showcase features national and local hardware and software vendors demonstrating their latest technology with an emphasis on how today's technology can be used by faculty, staff, and students. The event is not intended to be an opportunity for buying and selling on the show floor but rather as an informational and educational resource. No sales are permitted. However, vendors are encouraged to bring product literature and price lists offering general "educational pricing," or "show specific pricing" for subsequent purchasing. Vendors must supply their own computer equipment. We encourage vendors to bring "live" versions of their products so that as many of them can be demonstrated as possible. Last year the vendors in the showcase area included: Adobe, Apple, Blackboard, Brother, Dell, Epson, Foundry Networks, Hewlett Packard, Microsoft, and more than 34 others.
What is the Ithaca Free Software Association
The Ithaca Free Software Association (IFSA) is a community of computer users who live and work in the Ithaca area of Central New York. IFSA's goal is to promote Free Software and provide support to local residents and organizations who are interested in using it.
NewYorkTeam/Events/20090326 (last edited 2009-03-27 23:37:42 by cpe-66-67-139-158)